Salsa Verde (Peruvian Green Sauce)
This vibrant green cilantro-based sauce is simple to make and pairs well with rice, fish, chicken and other meats. It can also be used as a flavor boost for soups and sauces. I was first introduced to this sauce by my neighbor, an anthropology professor who had lived in Peru.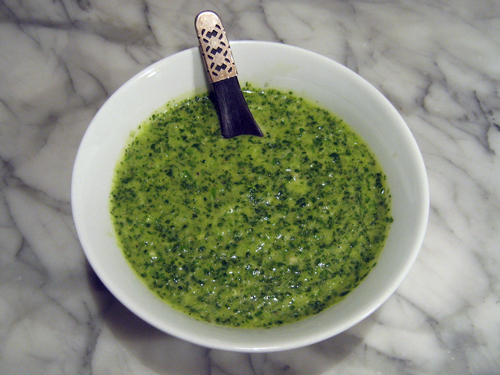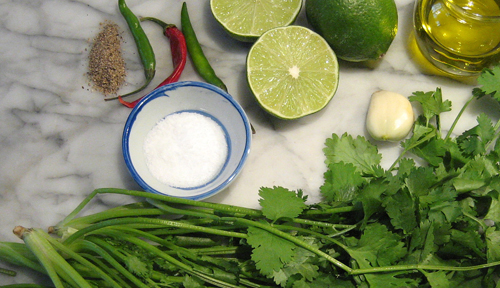 Makes about 3/4 cup
Prep time
5 – 10 minutes
Equipment
mini food processor, food processor, or blender. In the countryside of Peru, it is made in a mortar and pestle.
Ingredients
1 large bunch fresh cilantro, leaves and stems (approx. 1 -1 1/2 cups packed)
6 tablespoons of extra virgin olive oil
1/4 cup fresh squeezed lime juice (approximately 2 medium limes)
1 large or 2 small cloves of garlic
1 hot pepper (or more to taste) , seeds and stem removed. Jalapeños work fine.
black pepper to taste (I use 1/4 teaspoon of freshly ground pepper)
salt to taste (I prefer Kosher salt and use 1/2 teaspoon)
Directions
1. Wash and coarsely chop the cilantro leaves and stems.
2. Pulse all ingredients in a food processor or blender a few seconds until smooth. Do not over-process.
3. Taste the sauce and add hot peppers, black pepper or salt as needed.
The sauce tastes best when fresh, but can be stored for up to two weeks refrigerated in a covered container. If freezing the sauce, do not heat to thaw.
Comments
10 Responses to " Salsa Verde (Peruvian Green Sauce) "
Denice Militello
Nora Benikhelef
Docter Evil
Olivia
kharol
Clarence A
Miamimarvel
reinadelmar
Barbara
Leave a Reply